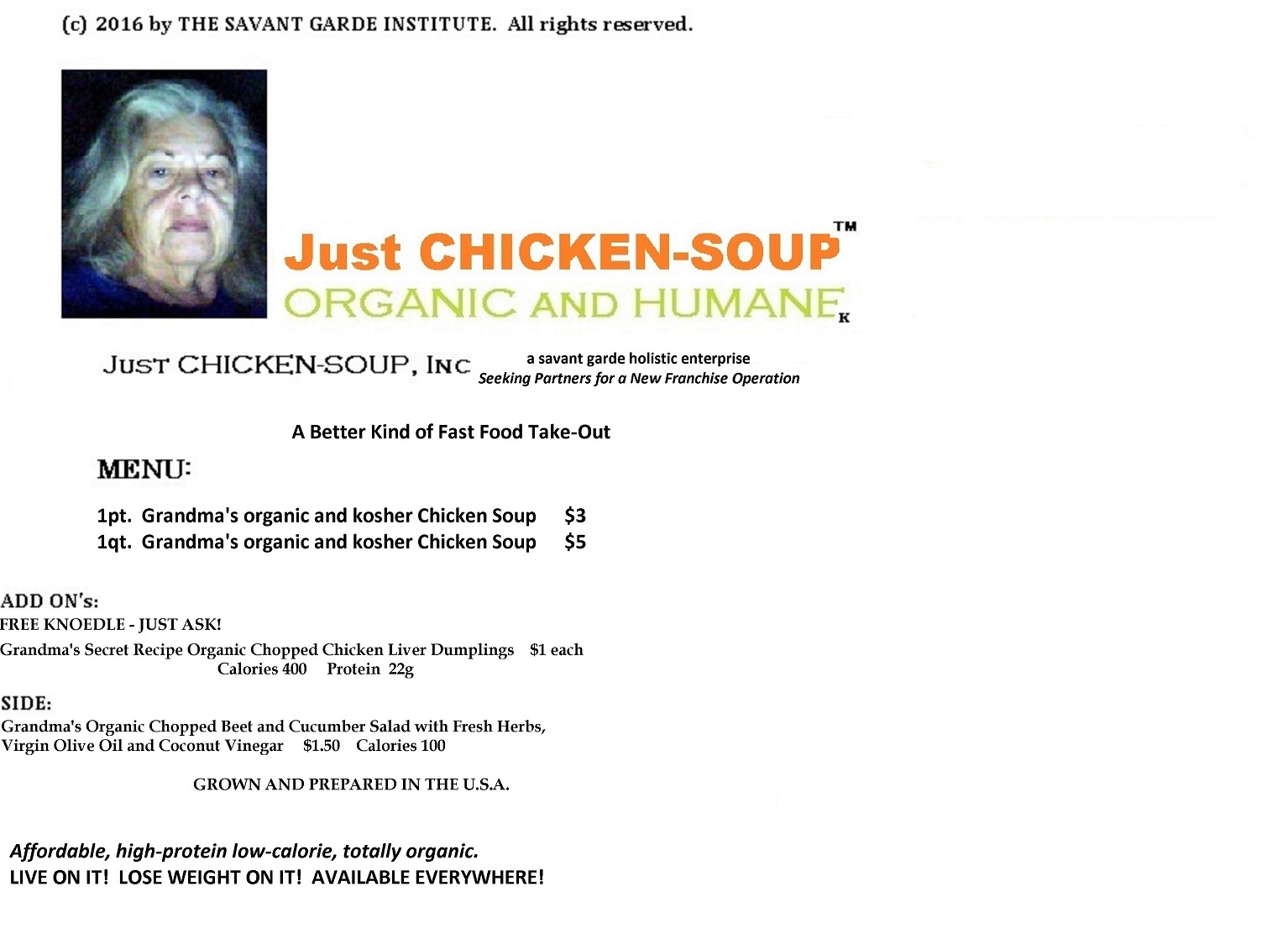 The Savant Garde Movement in the Arts and Sciences stresses
"The Creation of Beauty in the Human Subject"
by conducting Workshops in Precise Thought and Communication utilizing
all the available resources of the community to foster the physical, economical
and intellectual features of the environment that nurture and preserve the
Human Condition.

Click here to learn more about our proposed MORPURGO CENTER FOR THE ARTS AND SCIENCES described at www.TheHamptons.org.

Click here to contact our Trustees for donation purposes.

Click here to learn more about the Movement and its History.

email: morpurgo@msn.com
voice mail:1(631)725-1414

- Help Us Correct the Course of History -

venture capital needed immediately for
Projected Multiple SavantGarde® Franchise Offerings
providing a holistic approach to futurist lifestyles


The Savant Garde Institute is seeking some $10 Million in grant moneys for research and development of the following projects in conjunction with special educational programs at one or more major universities. Venture Capitalists will receive licenses to create one or more of these intended IPO's.
Royalties paid to the Institute from the successful implementation of the franchised operations should in turn result in redirecting underutilized commercial and community resources to create thousands of jobs and/or ownership opportunities for underemployed creative and scientific personnel worldwide.


SavantGarde® Brunch'n'Drunch™
Providing a "bookshop/coffee-shop" menu of grass-roots Poetry, the Arts and Critical Thinking while offering a heart-healthy alternative to fast food and a means of vending it through takeover and redesign of pre-existing failing fast food sites. Sample items: Green Tea, Mango Lassie, Papaya Lassie, Kefir, Yogurt with ground grape seeds, honey-walnut-banana burgers, peanut-banana burgers, avocado-walnut-banana burgers, poached-salmon burgers, etc., (including a rainbow assortment of alternative high-HDL/low-LDL-cholesterol animal and insect meat sources as these become publicly acceptable and available).



SavantGarde® Techno-Housing Communities
Providing a seamless transition from Yuppie Resort Housing to Refined Assisted Living, utilizing all the latest gadgetry and decorator appointments. Also providing a Neighborhood-coordinated comprehensive program that includes one or more of the following services, when needed: supervised housekeeping help, visiting health and medical personnel, gourmet longevity nutrition, access to academic activities, resort-style senior transport. For a description of the projected prototype at the SavantGarde™ Techno-Housing Expo Site, link here.



SavantGarde® Longevity Centers
Fully-integrated Longevity programs involving diet, nutrition therapy, fine arts instruction in music, ballet, crafts, etc., math & science workshops, internet multimedia workshops, etc., administered in conjunction with the Educational Programs of THE SAVANT GARDE INSTITUTE, Ltd., and its publishing subsidiary: the savant garde workshop.



XavantGarde Frankenfoods™
A 21st Century offspring of SavantGarde™, XavantGarde™ projects packaging and distributing a futurist line of insect or genetically-enhanced foods as these become safe and acceptable for human consumption worldwide. Sounds far-fetched? Click here for more.