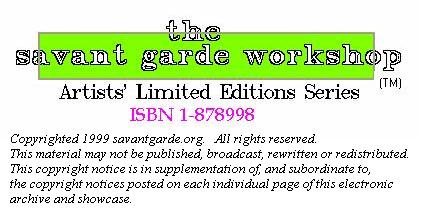 The above logotypes are the only legitimate hallmarks of the Original, Official, Trademarked Savant Garde Movement.


Search Engine Alert
The original Savant Garde Movement in the Arts and Philosphy stresses "the creation of Beauty in the Human Subject" through the use of precise thought and communication. Savant Garde/SavantGarde is presently a Juried Membership Organization now operated in benefit of The Savant Garde Institute, Ltd., a 501(c)(3) Foundation sponsoring research and the creation of Savant Garde art and literature by recognized professionals in the arts and sciences.


The following URLs have no connection to the Savant Garde Movement or The Savant Garde Institute!!!


Listed below are some URLs to websites presently engaged in wanton trademark infringement. By associating themselves with the Savant Garde Movement without first having applied to THE SAVANT GARDE INSTITUTE for inclusion within the Savant Garde Intellectual Community, they are engaging in fraudulent misrepresentation that they are producing products reflective of Savant Garde juried offerings. Most have ignored repeated warnings to cease and desist in using the name "Savant Garde," even after having been offered free listings at the non-proprietary X-generation alternative site created by The Savant Garde Movement at "XavantGarde.tripod.com"


The following URLs should be immediately removed from Search Engine listings under Savant Garde or SavantGarde as engaging in trademark infringement:


http://www.savantgardeentertainment.com
http://www.savantgardepress.com
http://kumquat.com/cgi-kumquat/funagain/11248
http://www.planetacomic.com/comic/Planeta/WorldComics/Image/
http://www.idiotsavantgarde.com/
http://www.gothic.net/~luvcraft/sg/
http://groups.yahoo.com/group/sge/join
http://www.coffeemonk.com/stuff/christ/copyright2.html
(For the Only Legitimate, Trademarked, Registered Website of the Official Savant Garde Movement, refer to: SavantGarde.org)